Affiliate Disclaimer: This page may contain affiliate links, which means we earn a commission when you buy through our link (at no additional cost to you). As an Amazon Associate, I earn from qualifying purchases. Read our full Disclosure Policy.
Styled stock photos are incredible for helping you save time while creating beautiful graphics. But you can take your graphics to the next level by customizing your styled stock photos. Creating branded photos is a powerful way to boost brand awareness and stand out!
Tailoring styled stock photos to be on-brand might seem like an unnecessary extra step. But it really is easy to do, and creates a huge impact on your business photography and marketing.
What Are Styled Stock Photos?
Styled stock photos are used every single day by brands, businesses, and bloggers. These images are carefully curated to help convey a specific mood or image for your ideal customers and clients!
Even if you've never used styled stock photos, you've likely seen them before all over social media and the internet. People use styled stock photos to build a brand visually online in a cohesive way.
Typical stock photos are a bit more generic, whereas people select styled stock photos for a more curated, cohesive look. It's kind of an opportunity to capture the "vibe" of your business or brand!
Of course, with so many people taking advantage of styled stock photography, it can be hard to stand out online and on social media. That's where branded photos come in!
First, you'll select styled stock photos that align with your brand. With a Katie Harp Creative styled stock membership, you get access to hundreds of Canva design templates, quote posts, styled stock photos (and more) for one low price!​
From there, it's time to add your branding and get even more tailored to your business, niche, style, audience, and goals.
Whether you're a blogger, creative business owner, or social media guru, branded photos using styled stock photos will help you uplevel your graphic design game (with less stress)!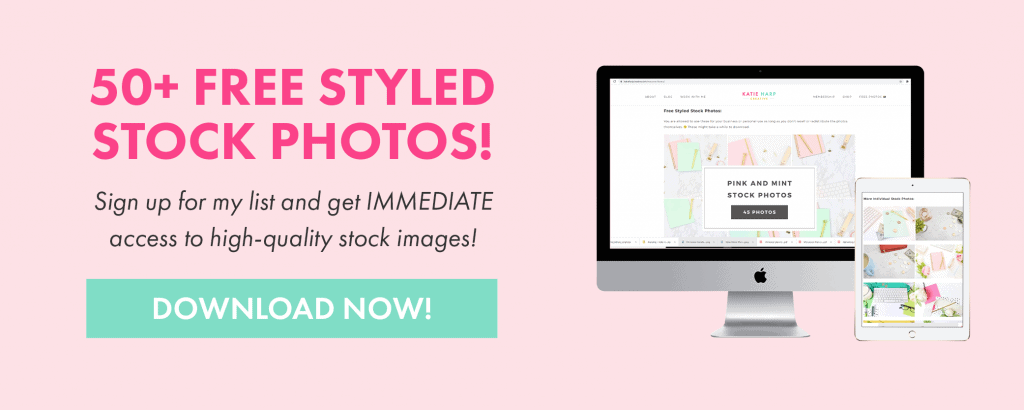 How to Use Your Stock Photography Membership To Create Amazing Branded Photos
The most important thing about selecting styled stock photos is finding photos that fit YOUR unique personality and style.
Honestly, photography is like a wedding cake. Your services, content, or products all make up the cake—they have to be "delicious" and well-made in order to keep people coming back. But the design and look of the cake help entice people to have a slice in the first place!
Once you've found the perfect styled stock photography, you want to continue tailoring them to your specific business. That's how you seal the deal—branded photos are the cherry on top of your marketing graphics!
To stick with that same wedding cake analogy, styled stock photos are like the smooth, beautiful white frosting on the cake. But branded photos are how you stand out! They're the pops of color, the swirls of frosting, the beautifully piped roses—they're what make your images YOU.
Here are some ways to take styled stock photography to the next level by creating impeccable branded photos!
Related: How To Maximize Your Marketing With Amazing Images
Add Text to Your Styled Stock Images
One of the simplest ways to create branded photos is to add text to the styled stock images.
Just make sure to consistently use the same on-brand fonts! An easy way to do this is by creating a brand kit inside of Canva where you save all of your favorite fonts for quick access. Using cohesive fonts allows you to build brand awareness and recognition.
Create Branded Photos With Color Overlays
Color overlays are kind of like filters, but based around your brand colors!
Apply simple, semi-transparent color filters to your styled stock photos. This will help you keep your whole social media feed on-brand, and lets you make the same photos feel unique so you can repurpose them over time.
Plus, a color overlay can help make text easier to read on some images! This is a great way to create branded photos. You can also save your brand colors in your Canva brand kit!
Add Your Logo And Other Brand Elements
Of course, we can't talk about creating branded photos without mentioning how important it is to add your logo!
Adding your logo or website to your graphics helps boost brand awareness and visibility. But it also can drive traffic to your website from your social media profiles, especially if you're creating shareable content!
Another way to create branded photos is to add elements from your website or branding in general. For example, if your website features lots of graphics like polka dots, consider adding them to your styled stock photos for an on-brand twist.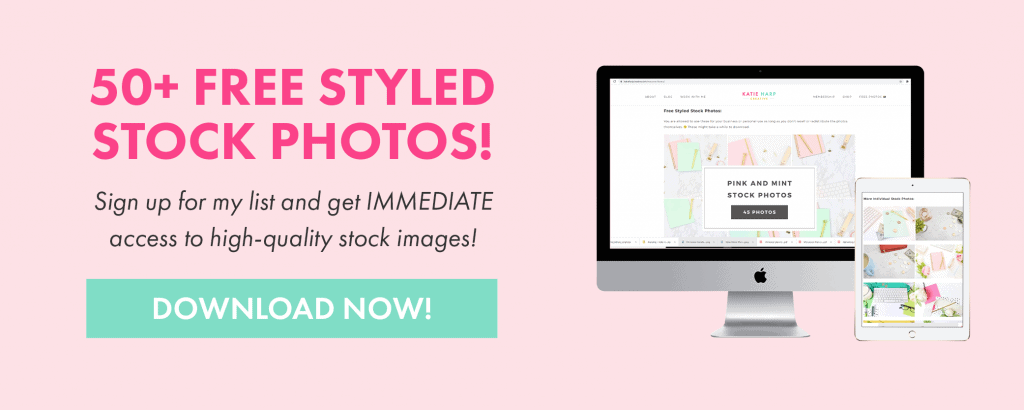 Crop The Photos In Unique Ways
Styled stock photos are usually pretty big files, so you can easily crop them in unique ways to end up with multiple images!
Cropping your styled stock photos helps you create those incredible branded photos. It also saves you time—when one image works well, you can create similar graphics with slightly different crops or angles. This creates the same effect while keeping things fresh.
---
Going the extra mile to tailor styled stock photos is an incredible way to boost cohesiveness and brand awareness. Your customers and clients will start to recognize your graphics when you take the time to create branded photos!
This doesn't have to be hard to do, either. Small, subtle changes make a huge impact on branding!
To save time and create gorgeous branded photos easily, learn more about my stock photo membership!
If you'd like even more styled stock photos and design templates, be sure to check out our membership!