Affiliate Disclaimer: This page may contain affiliate links, which means we earn a commission when you buy through our link (at no additional cost to you). Read our full Disclosure Policy.
Free styled stock photos, or feminine styled photos, flat lay photos, girly stock photos, or whatever else you call them, are super trendy and all the rage right now. I've started using styled stock photos for Katie Harp Creative and it makes my imagery so much cuter with pops of bright colors that match our branding.
I've written a post before about some of my favorite premium styled stock photos, so here are my favorite places for free feminine styled stock photos for bloggers. (Hint: usually these bloggers also offer premium photos as well!).
All you have to do is find their newsletter signup form and they'll send you free feminine stock photos by email. 🙂
8+ Places for Feminine Free Styled Photos for Bloggers | Free Styled Stock Photos | Feminine Stock Photos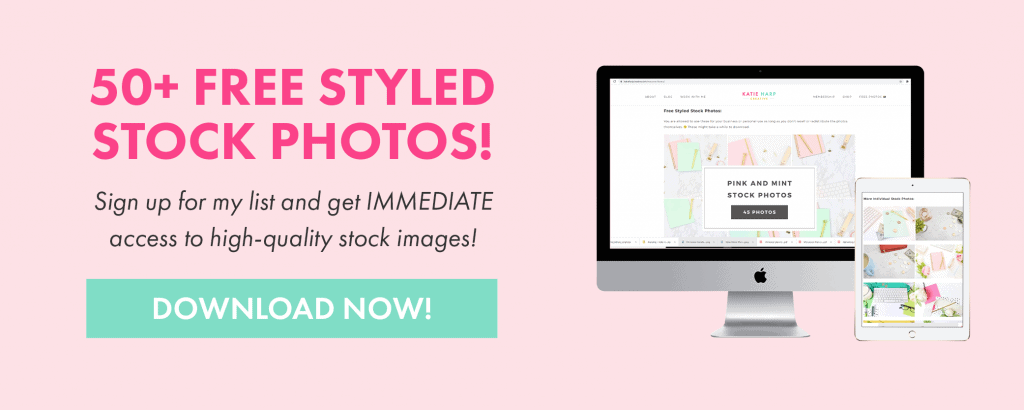 Did you know we have free feminine stock photos? Yep, it's true! Download them for free today. 🙂
I actually have some of my own free flatlay stock photos uploaded to Unsplash. 🙂 I have some with a black or white background plus some with a faux marble background and elements like coins and cash that are ideal for online entrepreneurs or business coaches.
I love the free girly stock photos from Ivorymix because there's hundreds and hundreds of them for free to fit any purpose.
These are beautiful feminine styled stock photos that can be downloaded instantly without even an email signup!
Haute Stock sells premium styled stock photos but also offers free samples! I've actually purchased a membership of hundreds of her premium photos and the past and still use them in projects for my businesses to this day.
City Girl Searching has a free library of girly and feminine stock photos for female entrepreneurs and bloggers.
Pink Pot has a bunch of free stock photos that were actually shot with an iPhone! She also has an iPhone photography guide if you want to take your own photos.
Make Your Blog Beautiful has tons of free photos packs organized by different themes depending on what kind of styled stock photos you're looking for.
Enjoy! You might also want to read about my favorite free stock photos for bloggers for general use kinds of photos.
Free Styled Photography | Feminine Photos | Styled Photography for Bloggers
If you'd like even more styled stock photos and design templates, be sure to check out our membership!